Who is
CrowdTamers?
We're a growing team of Growth Content marketing experts and thought leaders. We've been known to be a little silly, a lot adaptable—and all-around darn good people. We're the wearer of many hats, slayer of many dragons, and we're all dedicated to helping startups like yours thrive.
Want to join us? Check out our jobs page now!
Want to work with us? Let's chat!
Meet the Team
Trevor Longino is a marketer, writer, speaker, founder, and growth thinker. He's generated more than 20 million dollars in revenue over the last decade through content and growth marketing.
---
With 20+ years of experience in marketing and leadership in startups, he brings a wealth of knowledge in marketing best practices, building and leading teams, and market positioning. He founded CrowdTamers.com more than a decade ago and has been a consultant at companies all over the world, helping them grow. Current clients are based out of Toronto, Montreal, Amman (Jordan), Vancouver, Sydney (Australia) and Tokyo.
Trevor has taught marketing, branding, growth, and revenue to startups at accelerators all over Europe and North America.
Trevor is from the Florida in the United States, but moved to Poland in 2010 and lived there for 7 years. He's traveled to 27 different countries and eaten a bunch of things that he probably shouldn't have. He's now a resident of Montreal, Canada.
Father of 3 children (William (4.5 years old), Elizabeth, and Evelyn (6 months old)) and married for 19 years to his college sweetheart Eleanor. For fun in the copious free time he has between running a global growth marketing agency and raising 3 kids, he plays banjo and writes.
Saumya is a Software Engineer turned Marketer. Having worked in the IT industry for around 1.5 years, she realized Software Development doesn't excite her much. She switched her career path and re-started her journey by working as a Marketing Intern in a startup. She's now working with CrowdTamers as a Growth Marketing Specialist.
---
When she is not working, she drools over food while scrolling through the food pages. You can find her reading books at the corner of the house or a bookstore in her free time. She also loves to write poetry and handles a blog, "The Inked Perception". She is from Jaipur, India but currently living in Bengaluru.
Judy is a corporate communications expert and social media manager with over 4 years of experience in social media management, digital marketing, fundraising, customer care, and content creation while working with several major organizations in Kenya.
---
She's now working with CrowdTamers as a digital content specialist. She's highly skilled in Facebook and Twitter Ad buying and analysis, growing social media accounts, and advanced design skills using Canva. She loves to do research on interesting topics; down the rabbit hole is her favorite pass time, which is a great asset when it comes to customer research.
She fancies herself a retired psychologist, having a degree in Psychology, and practiced for 4 years prior to her somewhat more lucrative and exciting career in communication. She strongly believes this to be true.
She loves people and helping companies grow is her favorite thing to do in the whole world besides traveling and sampling new restaurants when the time allows it. She also loves photography and cats.
A senior graphic design professional, and a visual communication expert, helping brands grow through creative strategy, inventive approach and sheer hard work. He believes in getting people excited about brands, products and services.
---
With 7+ years working in different set of industries like Healthcare, Education, Food, Hospitality, Entertainment and many others handling various tasks, ranging from logo design to million dollar turnover PPT.
If you like your designers vague and arrogant, sorry! He gets excited by old-fashioned stuff like 'hard work', 'kindness' and 'collaboration'.
He likes to spend his weekends playing with his son, sketching portraits, or watching a good documentary on Netflix.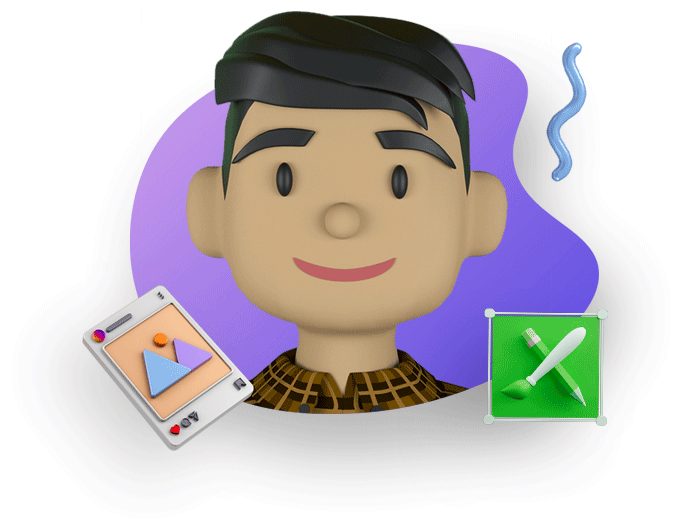 Rameshwar Chawla
GRAPHIC DESIGNER