Our estate planning client had a problem:
Estate planning, settlement, and probate court are all topics that most people don't want to think about ahead of time.
So how do you develop a routine and repeatable funnel of people who need these services if your business improves estate planning & settlement for people all over North America?
ClearEstate, a successful and well-funded startup, is disrupting the estate settlement and estate planning space. Their goal is to make the process of estate settlement as painless and seamless as possible. With a combination of highly-qualified professionals to help answer questions around estate planning and software that simplifies communication, saves families thousands of dollars, and reduces the estate settlement process by months, ClearEstate is providing families a crucial service that helps with a difficult transition.
While successful in helping with estate settlement in Canada, they came to CrowdTamers to help improve overall ad campaign performance. With message alignment, our goal was to help discover relevant people currently dealing with estate planning and probate court.
The Process: Making estate planning less scary
Over the next 2 months, we crafted messaging and visuals – iterating on messaging & creative to drive traffic to landing pages.
We tested with different types of messaging:
'taking the stress off you', and
'making your estate settlement duties as easy as possible'
The top-rated estate settlement solution
different CTAs
'download a free checklist for your estate settlement process'
and the offer to 'book a free call' with one of their reps.
and different visual styles
Illustration
Photography
Text-heavy
All in a bid to determine the best sort of creative to drive interested traffic to the landing pages.
In trying to get a better understanding of the pain points of our customers, one key insight came up during these experiments. Our clients needed someone with expertise in estate settlement/wills within their locality*.* Search results and ads both frequently led people to consultants or services that weren't experts in their given locale.
While there are some similarities in the process of managing estate settlement across states and locations, every country and even every state and province can have quite different rules for estate settlement and probate.
Reassuring clients with a combination of the winning creative, the winning headlines, and ads that reference local creative ended up delivering tremendous performance improvements.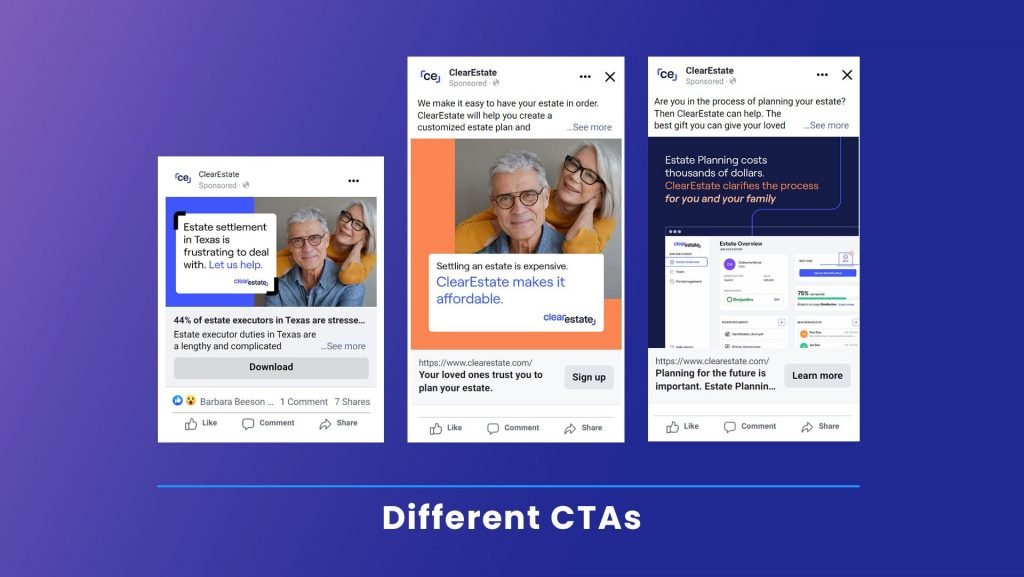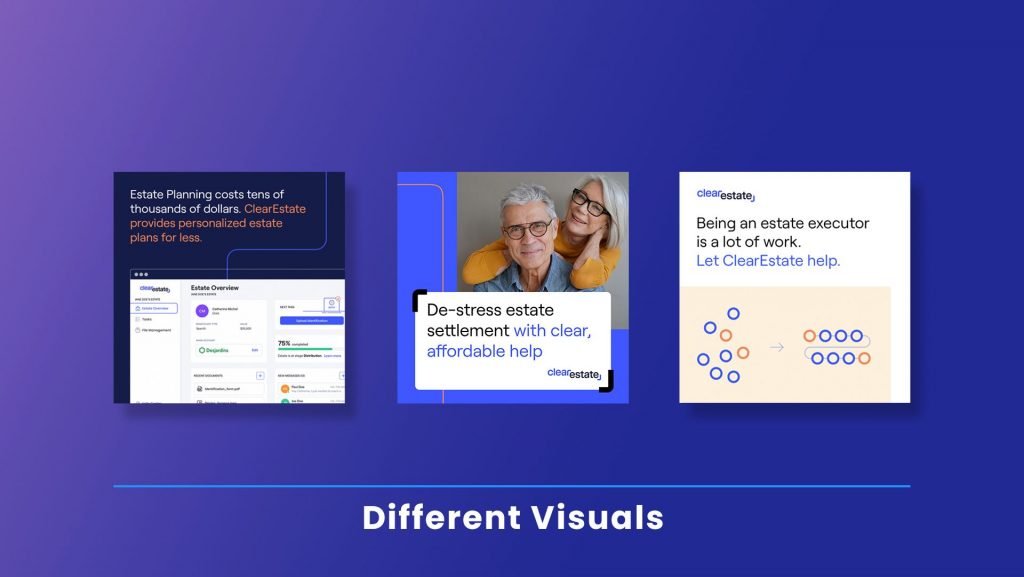 The Results
With all iterations and improvements in place, the Facebook ad campaigns performed better than anticipated – 10 times better than the industry average click-through rate. Further, the display ad traffic was clearly highly relevant, as Facebook ads developed into the highest-converting source of the traffic to signups on their primary landing pages.
With a 5% CTR on ads and an 8% visit to MQL rate, Facebook emerged as a leading channel to deliver new prospects. Further, the lessons learned for ad copy and targeting on Facebook informed other channel search traffic, leading to improved outcomes across their entire performance marketing channel.
Next Steps
Optimizing ads have payouts beyond simply improving ROAS for a single channel. By proving which message, creative, and offer work in one context, we have equipped ClearEstate with multiple wins:
Developing a new channel for top-of-funnel discovery that was both more affordable and higher conversion visits to signup than any other channel.
Building knowledge and their library of high-performing headlines and creatives to use across other marketing channels
Validated several new US markets by showing equivalent or higher interest in their proven Canadian client base.
Future tests and iterations will allow these early Facebook GTM tests to mature into a full brand discovery and lead conversion channel, with top-of-funnel discovery, retargeting, and conversion-optimized campaigns to develop a complete funnel.
Further low-hanging fruit to test would include building channel-specific nurture campaigns for lead gen signups. Display ads are generally different level of intent and at a different stage of the buyers' journey than search/organic. So we'll find other cheap top-of-funnel sources like YouTube or Spotify. Then we'll retarget those further on Facebook while continuing message iteration and improvements further.