TikTok is growing rapidly. 8 new users join TikTok every second. Additionally, it hit 1 billion active global users by the end of 2021, cumulating over 2.6 billion downloads since its launch in 2016. This tremendous rise shows us one thing: that the short-form video app is here to stay – as much as boomers and millennials may protest. With trending music, special video effects, original filters, and a highly personalized algo that knows you better than you know yourself. TikTok continues to surpass the popularity of Facebook, Instagram, and Snapchat in 2022 which means your business needs to be up-to-date on the latest TikTok Strategies. Recently, a surprising statistic came out showing that 40% of Gen Z users prefer using TikTok and Instagram for search over Google (what!?).
At first, it may not seem like it, but TikTok is big business. That's why this guide was put together- for startup and small business owners who want to use TikTok for businesses.
How to get started with TikTok for Business
I am assuming you already have a TikTok account. If you don't, log in to TikTok.com and set up your account before you jump to the first step.
Log in to TikTok for business.
At the top-right-hand corner, click on "Create Now".
This will redirect you to the TikTok ads manager. If you already have a TikTok account, scroll down and click on "Sign up with TikTok". If you don't, sign up by feeding your email id and other credentials.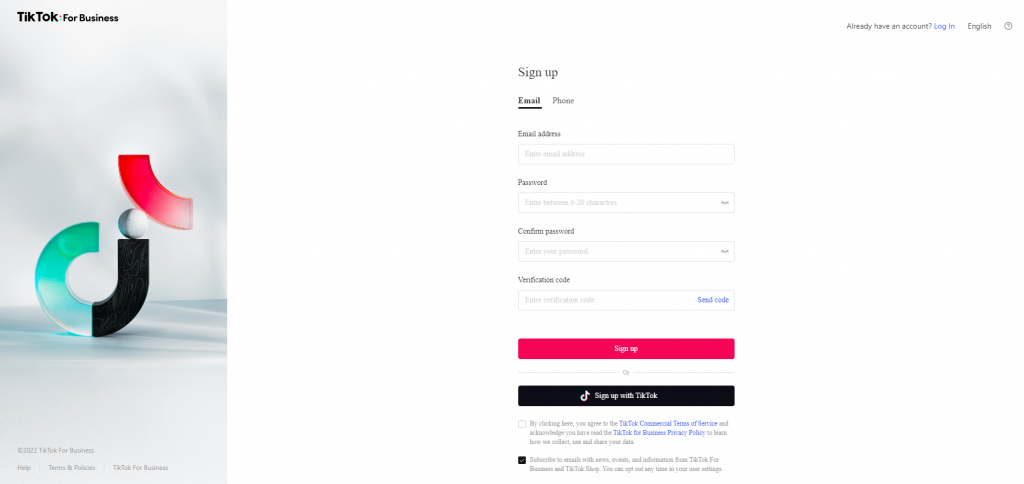 You'll be now asked to fill in some details about your business (address, business activities, etc.)
How to create a TikTok Advertiser Account
Here's how to set up your TikTok ad account within the TikTok Business Center:
Under Assets –> Advertiser accounts, click on Add advertiser account.

You will get the option to add an advertiser account; click on Create new.
You will then need to add some information about your business.
Click Next to submit this information and wait for TikTok to approve your new ad account.
How to invite team members
If you want to invite an internal team member to your TikTok Business Center, you can click on:
Click on Users -> Members -> Invite Member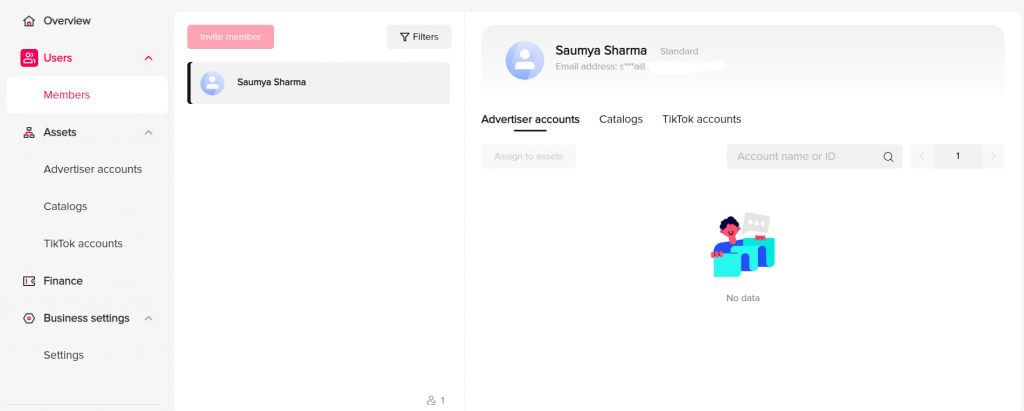 Enter their email address
You then choose the level of access you want to give them.
Setup Payment Method
To setup a payment method
Click on Payment
Manage Payment Methods
Add a new Payment Method
Set up the details and click Submit
Define your target audience
Who do you hope to reach on TikTok? Before you start creating content, learn about the TikTok demographics, and identify those who might be interested in your brand.
TikTok is most popular with teens, but it would be a mistake to write TikTok as a teen app. The 20 to 29-year-old cohort follows close behind teenagers in the U.S. Looking to expand your reach in India? You may want to reconsider. The video-sharing app has been banned here since June 2020.
Spend time researching your audiences on other social media platforms and look for overlap on TikTok. But do not rule out new or unexpected audiences. Your current audience may not be on TikTok, but maybe there are subgroups with related or slightly different interests on the platform. For example, a children's book publisher's audience could consist of authors on LinkedIn, readers on Instagram, and illustrators on TikTok.
Once you have zeroed in on a potential audience, research what types of content they like and engage with. Then start to brainstorm content ideas for your brand.
Set goals that align with your business objectives
You can create TikToks just for fun, but it is always better to have goals in mind that can be tied to your overall business objectives.
Whether you plan to develop stronger customer relationships through engagement, reach a new audience, promote awareness for a product, or improve brand image, it is essential to back your efforts with a rationale. Like most social platforms, TikTok provides analytics for Business accounts. To access your TikTok analytics:
Go to your profile page and tap the three horizontal lines in the upper right.
Tap Creator Tools, then tap on Analytics.
Explore the dashboard and find the metrics you can use to measure your goals.
Benefits of TikTok for small business
TikTok can be very beneficial to your business if you use it strategically. It allows you to create diverse, engaging content that comes across as genuine to your consumers.
Audience reach: TikTok is one of the most used social media platforms, joining the ranks of heavy hitters like Facebook, YouTube, and Instagram. It has 1 billion active monthly users in 141 countries. More eyes on the app mean more potential for those eyes to land on one of your branded ads. This makes it an attractive marketing platform for businesses that want to reach a large audience.
Consumer engagement: Users aren't just downloading the app; they are actively engaging with content on TikTok, resulting in a high engagement level. An average user spends 858 minutes per month on the app, and this number has been increasing dramatically year over year. This accompanied by TikTok's unique delivery algorithms gives you the ability to see high brand engagement.
Creative opportunity: Brands on TikTok thrive with content that is entertaining and whimsical. This allows you to explore different aspects of your business, such as what makes you fun and interesting, and TikTok provides a platform where those fun aspects will be welcomed (and can even make you money).
Why you should join now
TikTok is relatively new, especially to the business world, and, as such, is not quite as saturated as Facebook, Instagram, and YouTube. It's also much cheaper to advertise because the influencer community is not strong yet. There are far fewer users competing for sponsorship and ad placements.
Furthermore, it helps you take the crucial first step into marketing to Gen-Z, the notoriously difficult-to-market-to generational group, which is becoming more important as they gain a stronger foothold in the economy. Marketing to younger generations doesn't have to be impossible – just meet them where they are, play by their rules, and have a little fun doing it.
TikTok trends can seem random. And there is no such thing as a surefire marketing strategy. Still, there are legitimate steps you can take to help your business kill it on the app.
That's about it. Feel free to leave a comment/feedback in the comment section below.