I have two questions for you –
How do you figure out what blog post to write about?
How do you generate more readers?
Now, let's reverse engineer these questions. Instead of thinking about how to get people to read your blog post, think about what your target audience searches for on the internet.
For example, if you're writing a travel blog, a bunch of people is probably searching for things like:
What's the best food to try in France?
Backpacking Europe
How to pack for a winter vacation in Canada?
Writing about your own adventures might not generate any initial traffic because that wouldn't answer the burning questions your readers might have.
You can include random things that occurred on your adventures, sure. But your blog won't generate traffic if you don't have any informational tips & tricks.
So, how can you discover hot topics your audience wants to read about?
There are a few different methods:
Forums (industry-specific or Reddit, Quora, etc.)
Competitor Analysis
Keyword Research
Forums
Let's start with Forums.
If people have a question and can't find an answer to it on Google, they'll probably ask it in a forum.
Here are a few ideas from Quora for the travel niche. For example, you could put together a blog post on solo traveling.
Another great place to check it more industry-specific might be Trip Advisor or Flipkey.
For example, you could turn this question into a wonderful post like "10 things I learned traveling solo through Europe."
Competitor analysis
Another thing you can try is competitive analysis. It is a super simple way to discover what blog posts are currently bringing the most traffic for your competitors.
The key is to first find other smaller blogs in your niche. This is because you won't be able to compete with your largest competitors right off the bat, so if you copy the strategy that works for them, it probably won't work for you.
Note that "smaller competitors" means competitors in your niche that generates <5,000 visits per month and have a domain authority of <20.
So, how do you find smaller competitors? As larger competitors tend to dominate search results, the key to finding your smaller competitors is to niche down your search.
For example, if you plan to write a blog on Hiking in Switzerland, search for something very specific like "hut to hut hiking Switzerland."
You'll notice that the top-ranking result for "hiking in Switzerland" is over 14,50,0000 and has a domain authority of 68.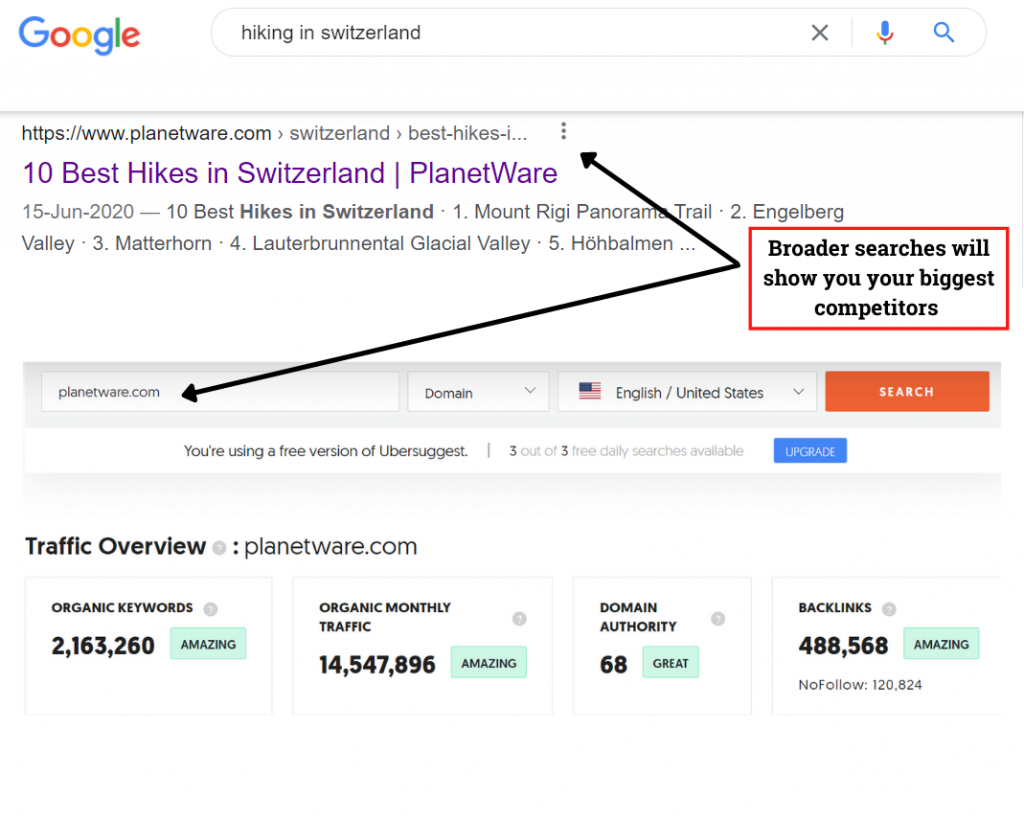 … whereas the top-ranking result for "hut to hut hiking Switzerland" is –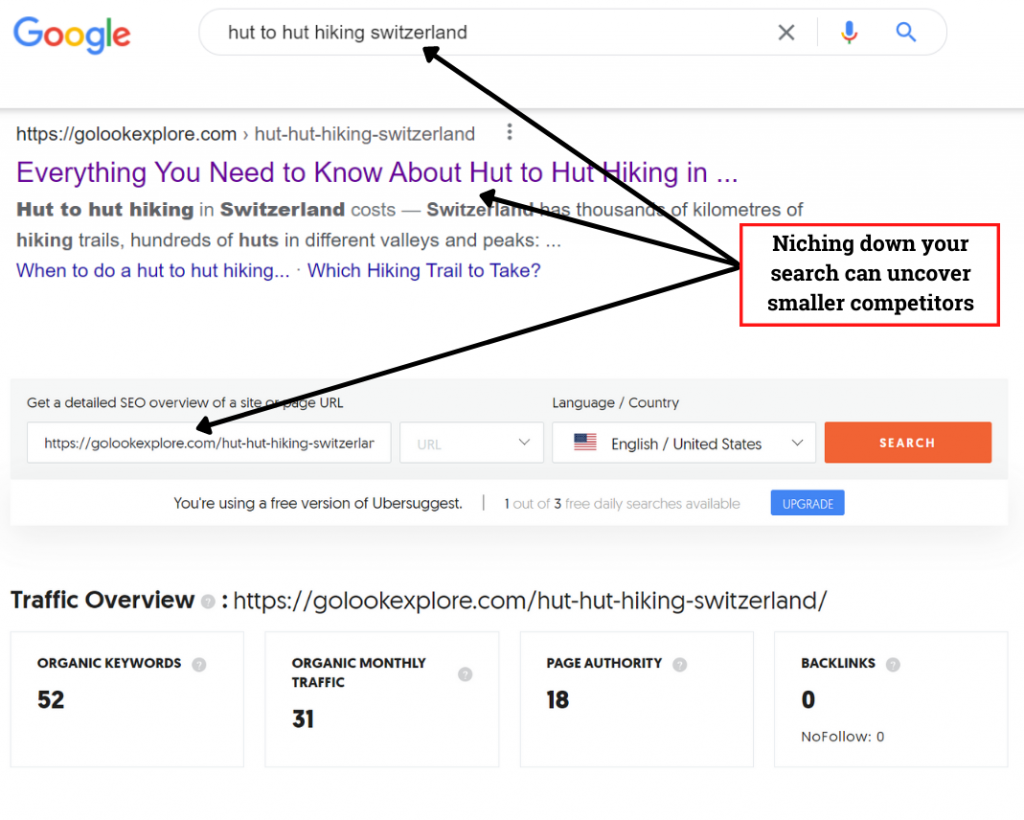 From there, you can look up what their most successful blog posts are.
I used UberSuggest to find out these details. UberSuggest has gone paid. The free plan is still pretty generous for light users. Another alternative is Ahrefs. Ahrefs is relatively expensive ($99 per month), but it provides all the SEO/content marketing information you'll need during your journey as a blogger.
Keyword research
Finally, if you're really stuck and can't think of any ideas, you can use UberSuggest or Ahrefs, or any other tool that you prefer to do simple keyword research. For our example, I'll use UberSuggest. Type in a generic keyword in the Keyword Ideas. When I searched for a Vegan blog, I got a bunch of ideas related to these keywords. You can filter the keyword according to Volume/SEO difficulty/CPC.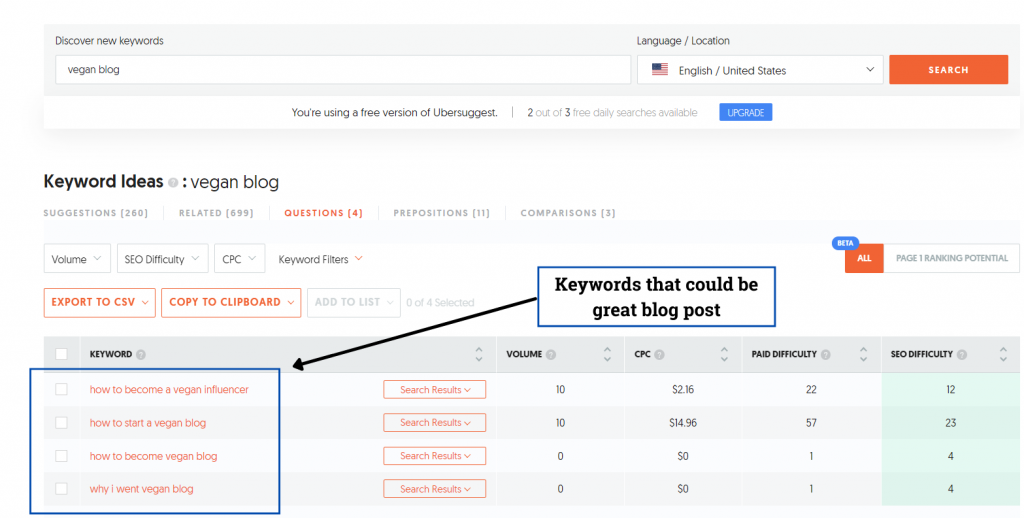 Narrowing down topics for your blog post
You can skip this step if you already used keyword research for the ideation step. However, if you used ideas from forums or competitor analysis, it is important to narrow down your topic to ensure your keyword has a low difficulty.
Again, this is something that you can do in a tool like UberSuggest or Ahrefs by entering the keywords of your chosen topic.
For example, if you found a topic like "things to do in vail colorado fall," you'll see that it has a relatively low keyword difficulty. (Don't worry that it only has 20 monthly searches, as right now you'll just target low-difficulty keywords.)
Therefore, this is a great keyword to target.

However, you may notice that some keywords don't have any search volume. For example, if you type "things to do in vail for a day," you'll notice that there is no search volume.

Instead, Google the keyword "things to do in vail for a day," and then take the top URL, put it into UberSuggest, and then click "Organic keywords."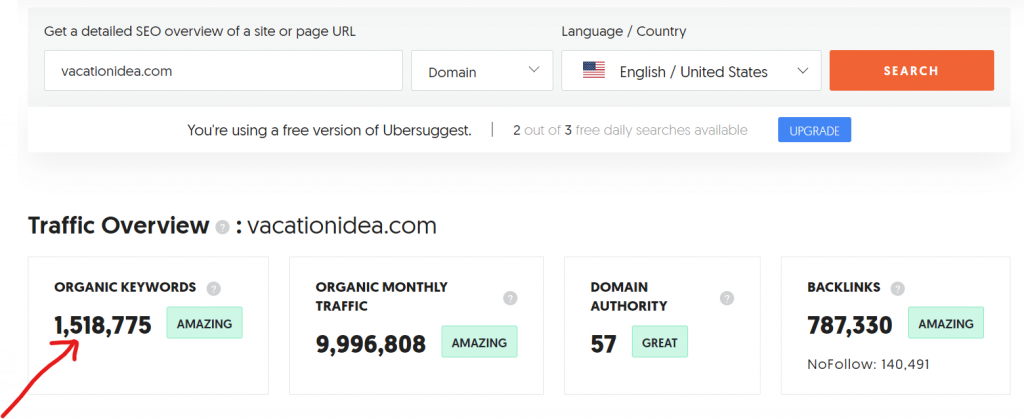 From there, you'll see a list of keywords relevant to the topic you want to write about.
If coming up with ideas is what's standing between you and executing a content marketing strategy, I hope this post helps you overcome that barrier.