It has been a few months since Google announced the release of Google Analytics 4 (GA4) and there's still a lot of confusion around the key differences between GA4 and the older Universal Analytics.
A common complaint about GA4 is that it is difficult to use. Marketers wished they had not wasted so much time trying to familiarize themselves with the poor UI.
The negative feedback about Google Analytics 4 is that it is not ready and that it was rushed out in a state that still needed improvement. Some marketers also said that the commonly used features are buried within the user interface as if purposely making it difficult to access.
But not all the feedbacks were negative. Some people offered positive words but even their hopeful tweets contained negative feedback.
Luckily, Google Analytics is not the only game on the web. Before you start hunting for videos on how to use Google Analytics 4, here are some Google Analytics alternatives; you might find some that are worth trying.
Matomo
The leading open-source application platform in web analytics, Matomo is one of Google Analytics' top competitors. It has offered a Google Analytic import plugin for a few years, so migrating in a GDPR-compliant way is straightforward and you won't have to sacrifice any of your past data, making it even easier to make the jump to Matomo.
It does most of what Google Analytics does and offers the needed features.
Those features include metrics on the number of visitors hitting your site, data on where they come from (both on the web and geographically), the pages from which they leave, and the ability to track search engine referrals. Matomo also offers many reports, and you can customize the dashboard to view the metrics that you want to see.
Matomo integrates with more than 65 content management, e-commerce, and online forum systems, including WordPress, Magneto, Joomla, and vBulletin, using plugins to make your life easier. For any others, you can simply add a tracking code to a page on your site.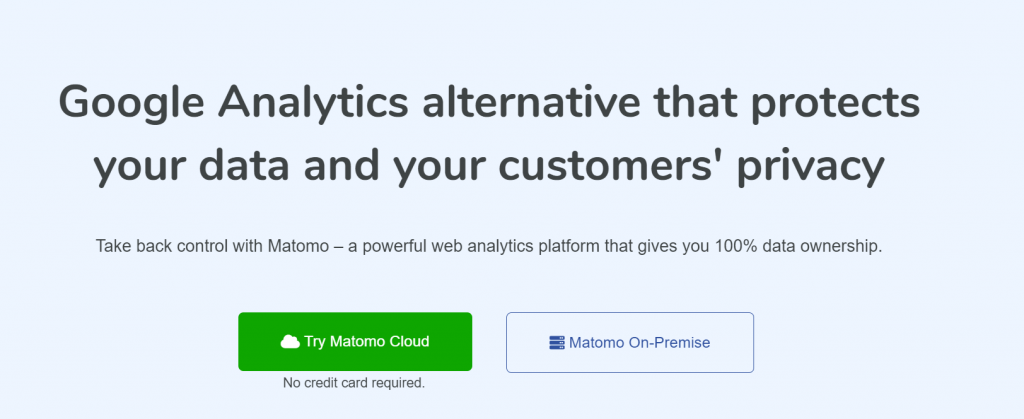 Why is Matoma Better than Google Analytics?
You can use Matomo without cookie consent banners, but this doesn't apply to Google Analytics.
GA's Terms of Service clarifies that using its services gives them the right to keep and use the data you collect for personal analysis. In comparison, Matomo gives you 100% ownership of your data.
Features
Visitors Profile: Evaluate every action taken by a visitor on your website and compile it into a full-blown visitor's journey map.
Seamless Integration: Easily integrate with 100+ software, including content management systems, eCommerce websites, and web development tools
Limitless Tracking: Track what you want and how much you want with no cap on maximum sessions or numbers
Matomo is a fantastic alternative to Google Analytics. It has over 2,900,000+ global customers and ranks as the 4th most popular site on the entire internet in the Audience Measurement category.
Plausible
Plausible is a newer kid on the open-source analytics tools block. It's lean, it's fast, and only collects a small amount of information — that includes numbers of unique visitors and the top pages they visited, the number of page views, the bounce rate, and referrers. Plausible is simple and very focused.
What sets Plausible apart from its competitors is its heavy focus on privacy. The project creators state that the tool doesn't collect or store any information about visitors to your website, which is particularly attractive if privacy is important to you. You can read more about that here.
There's a demo instance that you check out. After that, you can either self-host Plausible or sign up for a paid, hosted account.

Why is Plausible Better than Google Analytics?
Google Analytics collects too many data points. This makes it difficult to understand and requires proper training to get the most out of it. Whereas, Plausible cuts through all the unnecessary data and makes it easy to use, understand and make data-driven decisions.
Plausible is an open-source tool. Its source code is readily available on websites like Github and can be self-hosted. On the other hand, Google Analytics is a closed platform, and you might never know what goes behind the scenes. All you can do is trust Google.
Features
Simple Metrics: Get all the key metrics to analyze your website in a simple and easy-to-understand dashboard
Lightweight Script: Embeds a lightweight script (<1Kb) to your web pages without harming your website speed
Privacy Focused: Carry out site measurement anonymously without annoying your visitors with cookie/GDPR consent banners.
Plausible is a team-oriented analytics tool trusted by 30,000+ customers globally.
Fathom
A simple, privacy-friendly open-source website analytics library; Fathom is not a free platform. It tracks users on a website (without collecting personal data) and gives you a non-nerdy breakdown of your top content and top referrers. It does so with user-centric rights and privacy, and without selling, sharing, or giving away the data you collect. It's simple and easy to use for website owners at any technical level.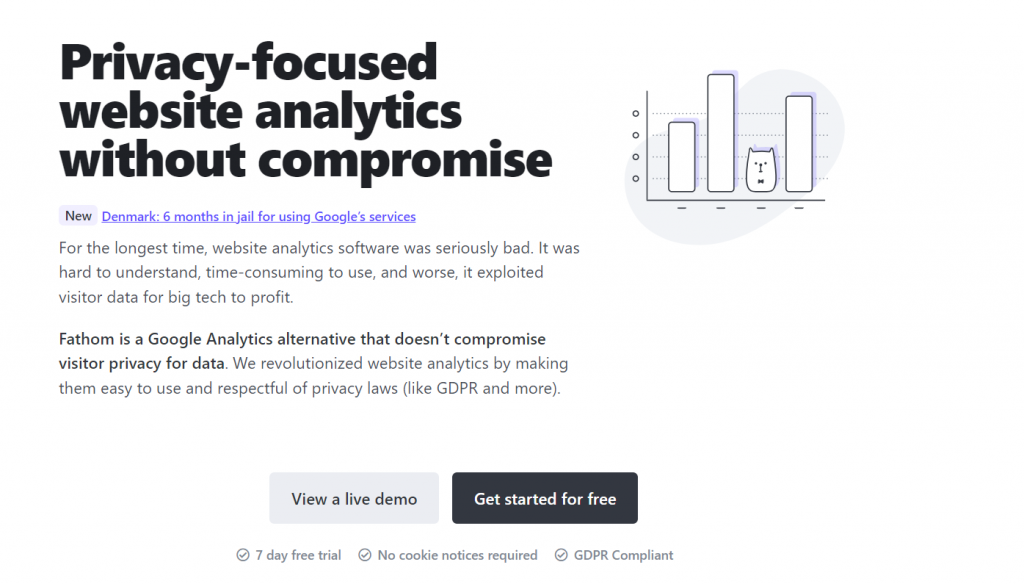 Why is Fathom Better than Google Analytics?
Fathom helps you gain better insights into your business performance while respecting your privacy.
Fathom's embed script loads faster on your website when compared to Google Analytics javascript, which slows your webpage loading time
Features
Bypass Ad-blockers: The embed script configured with a DNS record allows you to bypass ad-blockers by using a unique subdomain for every site
Privacy Regulations: Respectful to privacy laws such as GDPR, CCPA, PECR, etc.
Quick Loading Time: Its web analytics script loads faster due to custom domains serving in 70 locations worldwide
If you want to learn about all your visitors (not just half) and still hail visitors' privacy, you can trust Fathom's web analytical services.
While GA4 is an excellent system to use for web analytics, it is good to know that Google Analytics alternatives exist. If you are not happy using GA4, use any of these open-source website analytics as a GA4 alternative.