Conventions can be a marketer's dream come true, but in my experience 95% of the teams who attend conventions get a less than optimal performance out of the event because they don't prepare correctly and they don't execute optimally at the show and afterwards, losing them a lot of potential revenue. Executing well on just one event can mean the difference between a good quarter and a bad one, the difference can be so stark.
Preparing for an event
If you're attending a show without a booth, you have a lot more flexibility in terms of setting positive ROI goals from an event and meeting them; if you have a booth your investment (and stakes) are higher, so you need to prepare more aggressively to match.
If you're attending but not exhibiting
Search Twitter, Facebook LinkedIn, and any other relevant niche social media site for anyone who attended the previous years' event of the same name (if it exists) or similar events in the same city (if it didn't run last year).

Copy to a spreadsheet and find people who fit your persona by enriching their data with Snov.io or Clearbit.

If you have a few dozen prospects or fewer, then manually send them cold outbound messages about meeting up at this year's event.

Follow up by adding people on LinkedIn and messaging them there as well

If you have more than a few dozen, you will want to set up a messaging drip campaign in an automation tool like Snov.io

Get the list of sponsors and exhibitors for this year's event and last year's event (you can usually find that on the Internet Archive). Look up likely attendees for that company's show on LinkedIn & message / email them about the show attendance.
Set a leading goal for a trip that should have a good ROI. I have a simple guideline for this: the week before the show, I want to have at least 50% of my time at the show already booked with meetings from likely prospects for whatever product or service I'm selling.

If I'm not near that mark, I will usually cancel my attendance at the show entirely and eat the lost ticket and airfare. Swallowing $2- $4k in expenses as wasted is better than spending a week or so traveling to and attending a tradeshow when it's highly likely I won't get a lot of business for it.

If the show has an application, as soon as you can buy a ticket and get access to the app, do so. That app will usually have a number of ways to reach out to exhibitors and attendees, from special in-app tools to a directory with email addresses and phone numbers. 2 weeks before the show, make sure that you've reached out to everyone in the app who fits your buyer, and then 2 or 3 days before the show make sure that you've checked again and contacted any relevant new trade show app users with your offer.
If you're exhibiting
You want to start with all of the above tips for if you're attending, with the caveat that you probably can't cancel your booth presence and get a refund if you're not having luck booking meetings. You can certainly scale up or down your team presence at the show if you have sufficient show badges and flight ticket flexibility to allow for it.
In addition to the above steps, I like to:
Assuming you've got a list of more than 1k potential leads from the trade show, run retargeting ads to invite them to visit your booth at the show.

You will, of course, need a strong reason for them to visit you: a high value giveaway if they book a meeting at the trade show may do the job for you.

If you have enough time before the show and you've identified some high-value leads, you can always send them something through the physical mail as well, as that is a pretty high-impact channel if you send something more fun and useful than, say, a postcard.

Sending them a map of booths at the tradeshow with the bigggest brands (and you!) on it can work, especially if the in-app map is kind of slow and rubbish as they tend to be. Draw an arrow from their booth (or from the entrance, if they don't have a booth) to yours for added impact.
Right before the show
Create a conference lead scoring spreadsheet. You can go old fashioned and use a printed one like the one I use here, or you can go high-tech as I have tended to do in the last few conventions I've attended and take notes online with Notion.so or Google Sheets. The goal is the same: have a record of what you talked about and what to do next after the show. Every conversation you have gets written down here, even the ones that you don't think are worth anything: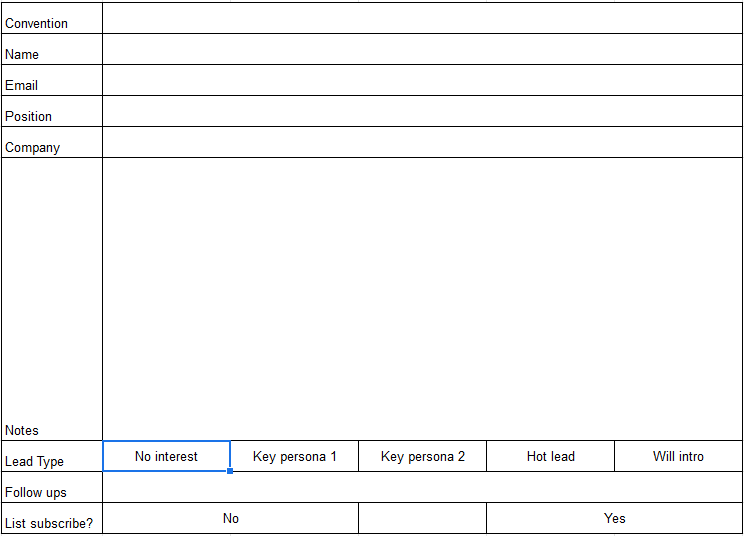 Of particular note here; you want to tag all of your leads with a lead type, because that's going to indicate how you nurture them after the show. Follow ups is where, if there's a specific ask that the person you talked to had, you write that down.
You should be able to print these out on a 5×7 or 4×6 card and keep a stack of them in a coat or in a bag. Be disciplined about stapling business cards to these (if you have old fashioned paper ones) or about attaching pictures of business cards to your digital notes, if you're capturing this digitally.
Also make sure that you have at least 50 business cards on you at the show for every day that you're going to be attending. No, you won't really go through 200 cards over a weekend, but it's better to have 100 cards left over than to have no cards to give someone when you meet them.
Print a 5 x 7 "Kiss Off" brochure; if you're in a discussion with someone who's not going to be valuable to you but you're having a hard time disengaging politely, you can always wrap up by handing them an overview of your services with your company's general contact info and then thank them and tell them to follow up with you after the show.
Attending an event
Set up Facebook ads that target your best prospect personas and are geofenced to the smallest area around the show venue that you can find. Send the prospect either to book a chat in your calendar or schedule a visit at your booth

As always, a good CTA is key; what is driving the person to want to book a meeting with you? Give them something of either personal or business value when you meet in person.
If you can get a list of exhibitors or attendees big enough to retarget to on LinkedIn or on Facebook (>500), you can also set up an ad group for that.

Face to face discussions are the very best place to iterate on your messaging and value prop. You can spend 2 months and thousands of dollars on ads, landing pages, and targeting to find out the same things that you can discover over the course of introducing yourself to 5 different people at a convention.

If you experimenting about USP / positioning for your brand, you will want to write down some of those experiments ahead of time and then take a few moments before a new meeting to randomly select one of your pitches and then present that one. Mark which one you used on your lead scoring worksheet for long-term analysis, but you'll see on people's faces and based on their interest level which positioning / pitch is working for you with which personas.

Cold opens can be hard when meeting someone at a booth. If you have emailed or InMailed someone before the show and didn't get a response, you can still use that person's name to help open your discussion. "Hey, I've been corresponding with Ken about working with you guys, and I was wondering if there's someone where I can talk to about partnerships or procurement…?" works better as a lead in than just, "Hey, I'm from COMPANY NAME and I'd like to chat with someone about PROBLEM I SOLVE."

I will confess that I have occasionally walked up to a booth at a show and bluffed my way from start to finish; any sufficiently large organization probably has a Dave or a Mike or an Erin (or an Aaron). I don't necessarily recommend that approach, but if you have nothing else going and you don't want to come in completely cold, see how well you can carry along by fabricating your acquaintance from whole cloth if you must. 😛

When you're wrapping up your discussion with someone new, always be sure to ask them, "Hey, can I drop you some emails to follow up" or "Hey, can I contact you after the event by email?" so that you're getting explicit opt-in if you want to add this person to an email newsletter / marketing nurture list.
The two things you most want to achieve at an event are:

Talk to someone who wants to buy from you and
Remember what the new contact wants
In order to do both of these things, you need to try and find the right contact at every booth or meeting (most booths are largely staffed with marketing, bizdev, and sales people, and usually not the senior ones).
In order to make sure that you know what to do with your lead after you've talked to them, take good notes.
If you're exhibiting at the event
Train your team to run "Front of House" and "Back of House"

Front of House has a 1 sentence pitch, is comfortable asking simple technical & product questions, and is willing to engage in 50 different 10 minute discussions over the course of one day. They should be good with people and energetic. If your company has SDRs, that's often an idea person to tackle this role. This person has 2 key goals:

Get people who won't buy the product out of the booth quickly but kindly. These people get the Kiss Off brochure once it's clear that they're not going to buy.

Back of House is a senior decision maker. This person is who is taking most of the scheduled meetings and, when they are not in the middle of an actual meeting, can field on the spot meetings with interesting potential leads. This person should be able to answer in-depth questions and speak with confidence broadly about the product, the company vision and purpose, and knows what the company is and isn't willing to do to acquire a new client.

Keep your swag to the point

Booth swag is fun. If you're giving away a drone or a fancy extensible water bottle, you'll get people to stop by your booth expressly because they want some swag. But that's not really a great way to find good business; quantity can produce a certain quality through sheer numbers, but you're better off having quality meetings from the start.
Booth swag that's easy to give away, branded, and relatively cheap like socks, shirts, and hats are all great for general purpose giveaways.
For high-value leads, you should have another, more valuable booth gift for them. An audit, a expensive product sample, a free consultation, something which directly ties to what you do and keeps your USP visible to the lead will work wonders for those high-value prospects.
After the event
Get your leads into your email nurturing funnels!

Any hot leads are of course for the sales team to work on ASAP. If you're the sales team, then get cracking. 😉

All info that's relevant should go into the CRM. Anything that, as you're filling out the CRM, you remember but didn't write down at the time, go ahead and add that in, too.

Warm leads should be sent different outreach nurtures based on what kind of lead they were and what you want them to do next. Assuming that you've already built some content marketing funnels, you can sort them into ad nurture funnels, too.
Of course, anyone who you talked to in person you should make sure that you send a personal note to as well as adding them to a nurture funnel. Here's where your hard work writing down notes right after you talked to a contact is worth it. You can remember the whole context of what you were talking about and how you can help, if you have some good notes to jog your memory.

Mine the event app / social media for any attendees who you weren't able to see while you were at the show. Emailing / inmailing / retargeting ads to those people over the 2 weeks following a big event will get you an immediate relevancy boost that will increase your CTRs and help spark that first conversation that you need to get your foot in the door.
Follow the event up with some kind of value offering. Anyone who attended the event who you can reach, perhaps give a free consultation / evaluation or a big discount off a loss-leader product. Find a way to tie this into the event.
Finally, make sure that your list of leads & contacts is well documented so that you know who to start outreach with next year…. 🙂
What do you think? Have you found a great hack that makes conventions more profitable? Have you tried any of the above and found they worked terrible for you? Hit me up @trevorlongino on Twitter and let me know.