The older I get, the more surprised I am that so many people work the nine to five, hate their boss, hate their job, make dark jokes about their significant other, and live lives of quiet desperation.
There's a lot more out there to life if you can come to grips with three key concepts:
Your job is not what makes you happy.
Humans are bad at risk assessment. You are, too.
The cost of failure is minimal over a 5 year span.
If you can embrace those three ideas, you can start to make decisions that matter more for you and for what you most want to be doing, rather than making decisions that minimize your fears. It's hard to give up on the steady cashflow of a stable job. It sucks to try something new in public and fail at it.
But if you take that risk, it gives you the chance to build something that frees you to do what makes you happy.
We're bad at risk assessment (See #2 above), but we can mitigate that risk by learning from others who have already taken the risky path and blazed it for us. The best resources I know of to learn from others are books written by other risk takers.
Two years ago, as the sole source income for my family of 5, I made the jump to working for myself full time, and this year I started to grow my agency to be a full team of people. There are a few books which have been instrumental in helping me feel confident enough to make the jump.
If you've made the jump to carving out your own way in the world, or if you're just considering that jump, here are 3 books you should read.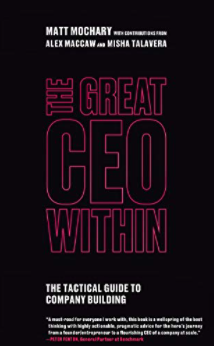 Matt has coached CEOs who have launched huge startups out of Silicon Valley. These CEOs need to deal with immense stress, figure out how to make critical decisions with very little information, build good practices for themselves and others, understand and clearly explain what their purpose is, and drive relentlessly towards it.
Whether you're a tech CEO or someone who wants to build a barn over the summer, these same skills and habits are essential. Starting with the foundation of why start something new and then moving on to individual habits, group collaboration, and processes that scale, Matt leads you through the same exercises that he's lead the CEOs of Reddit, Coinbase, Clearbit, and more through.
An excellent, tightly-written book with very little fluff. Every page has insights you can apply right now or file away for use when the need arises. Rereading adds value because each read of this short book can illuminate whatever problem you're currently grappling with.
Check out the early version of this book for free here: https://docs.google.com/document/d/1ZJZbv4J6FZ8Dnb0JuMhJxTnwl-dwqx5xl0s65DE3wO8/preview#
What differentiates someone who can commit to their own side gig from someone who needs the stability of a regular job is the willingness to tackle tough decisions. When you know everything about a decision—likely outcomes, risks, rewards, and so on—it's easy to make up your mind. But when you lack information and can't figure out what the next step should be, a rigorous approach to decision making can mean the difference between action and weeks of sleepless nights worrying.
As Peter writes in this book, "Most of our instincts about decision making are flat-out wrong." Based off years of research and building on dozens of studies, this book gives you tactics pulled from leading minds in decision theory and social psychology.
The key elements worth taking from this book are how to help guide group decision making, which is one of your main roles as a founder and leader, and how to put decisions to rest so you can move on after you've made the decision without spending cycles fretting and worrying over them after the fact.
It also pays to re-read a few times to keep the various decision making models in your head. When you have 3 – 6 different ways to tackle solving a problem that you just carry around in your skull, you'll be amazed how much faster making hard decisions becomes.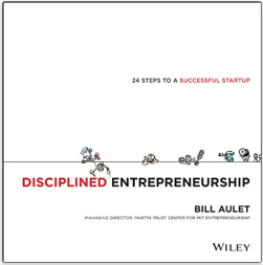 Bill Aulet brings the insights from the MIT Center for Entrepreneurship into a 24 step process to help entrepreneurs and business owners figure out how to start, build, scale, and succeed at business. If you're going to commit to your own gig, a disciplined approach is essential. This book walks you through many of the foundational elements that I think many entrepreneurs forget to address as part of starting their journey.
Follow detailed steps for finding your market segment, your first bridgeheads, your market size, and more. Once you've been through the foundational exercises, it packs a lot of the classical knowledge you'd get from an MBA in a single book that will equip you with processes and mental models to figure out pricing, overhead, and all of the moving parts required to take your first ideas into a successful business that you founded.
All three of these books are very business focused, which may seem odd given that I mentioned that idea #1 is that your job doesn't make you happy. That is true, but building a business that enables the life you want to lead—instead of working for someone else and doing what they expect you to do—is crucial to having room for happiness.
So as you think about charting your own course, read those three books. A lot of what they teach applies to life more broadly than just business, so even once you've built the business that makes room for the rest of your life, being able to make good decisions, clearly explain yourself, and set and stick to goals for the long run will continue to compound as an investment in yourself.
What do you think? What books would you recommend someone read as they forge their own path? Let me know @trevorlongino on Twitter and let's chat.